What Will I Learn? Exploring the Summit Salon Academy KC Esthetics Program
03.16.2020
We work hard to provide the best quality programming for all our Summit Salon Academy KC students. Our esthetics program features an exciting CIDESCO curriculum, a world-class training program that recognizes graduates as top candidates for any luxury salon & spa. Today we'll talk about what students learn in the program and the expert skills you can expect to have when you graduate!
The Summit Salon Academy KC Esthetics Program is divided into three segments where you learn about specific topics. After each segment, you'll get hands-on experience with spa training in the covered topics before moving on to the next segment:
Facials. Segment A is all about facials. Clients have a lot of options when it comes to facial treatments, and our professional training program will teach you all the different options, as well as how to assess your clients' skincare needs to determine which facial treatment is right for them. Facial treatments, cleansing, toning, and massaging make up 300 hours of the 1,125 total program hours.
A full-body massage, chair massage, body treatments, body machines, and makeup. Segment B covers a wide variety of body treatments and makeup. You'll learn the important benefits of massage, anatomy and physiology basics needed to understand how muscle groups respond to massage therapy, how to perform treatments using body treatment machines, and some of the basics of makeup application. Massage is an important part of the client's spa experience. It's not only relaxing, but it has many health benefits, including reducing pain, stress relief, improving circulation and much more, so it's important to learn about all the benefits so you can explain them to your clients and determine which type of massage is best for their needs.
Natural nail care, reflexology, hair removal, makeup, and state law. The final Segment C covers the rest of the esthetics topics. This rounds out your educational program with information about nails and hair removal, as well as reflexology, an advanced type of massage that requires special training, and more in-depth coverage of make-up application skills. You'll also learn everything you need to know about state law so you can operate your business while following the state's important regulations.
Exams. You'll take exams as you learn new skills so you can be sure to retain this wealth of information in the esthetics program. After each segment, you'll receive a certificate of completion after you pass the exam. The program's ultimate goal is to provide you all the skills and knowledge you need to take and pass the Missouri State Board of Cosmetology and Barber Examiners exam. All successful graduates are qualified to take the exam. When you successfully pass the state exam, you'll receive a Missouri Professional Esthetician license, which lets you work as a facialist, masseuse, make-up artist, spa manager, spa products representative, or even spa owner. Finally, students who wish to sit for the CIDESCO exam are qualified after 1,200 hours of course work. Successfully passing the CIDESCO exam makes you qualified to work in the esthetics field internationally.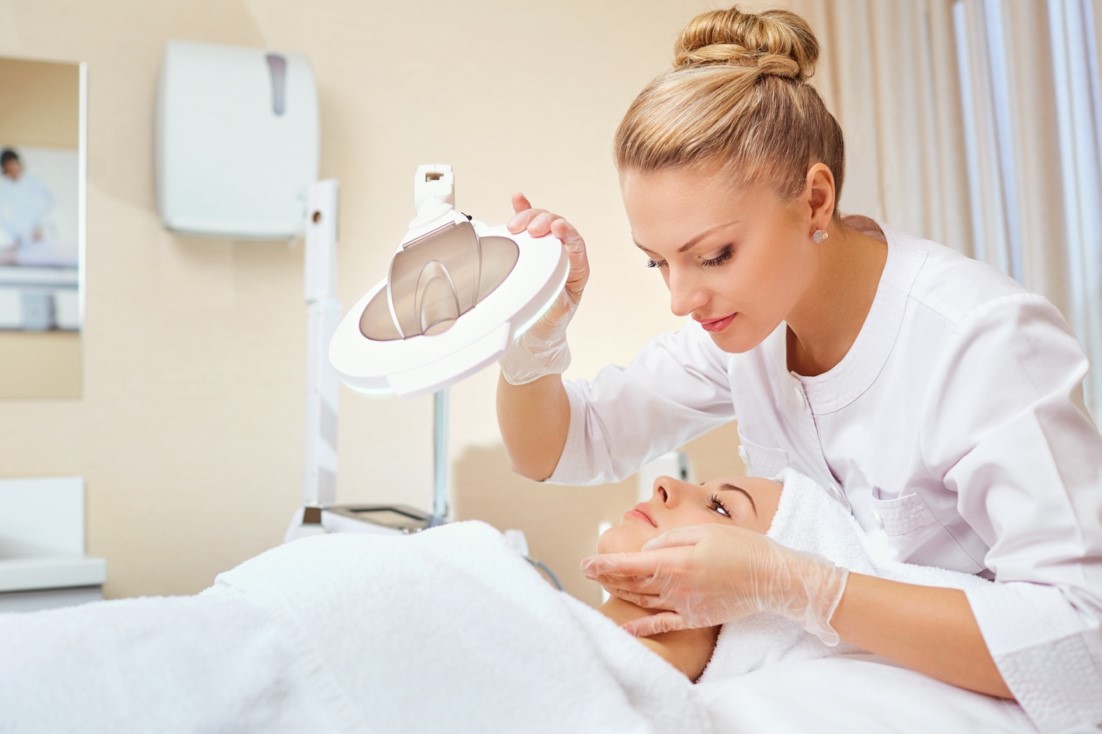 What does a day in class look like?
You'll listen to professional esthetician lectures about the topics, with PowerPoint slides that help you learn about the information. You'll also watch videos and/or demonstrations to fully understand the topic. The best way to learn is hands-on, and our spa training is an important part of the program, where you'll get valuable spa training for hands-on experience.
There's a lot to learn about esthetics, so every class will have some time set aside for important theory topics like anatomy, chemistry, human relations, products and ingredients, psychology, salesmanship, self-improvement, and much more.
What kind of books and supplies will I need?
Your instructor will provide the names and ISBN numbers of all the textbooks you'll need for the program, including the Salon Fundamentals Esthetics Coursebook, Workbook, and License Exam Prep book, Cosmetic Science, Dermatology, Anatomy and Physiology, and Electricity. Tools and equipment are an important part of the program and are paid along with other tuition and fees for the course. Your instructor will provide information about the tools and equipment you will need.
What will my schedule be?
The Summit Salon Academy KC Esthetics program is held on Tuesday through Saturday from 8:30 a.m. to 4:30 p.m. You'll have a one-hour lunch break each day, which totals 35 hours per week. The complete course is 1,125 hours, and the course is taught in English.
We're excited to help our students enter their new careers in esthetics through our world-class educational program. To get started today, contact our professionals at Summit Salon Academy KC. Our esthetics education professionals will answer all your questions about the program and help you begin your career in this fun, exciting, growing career. You can find us at 815 West 23rd St S in Independence, MO, or call us at (816) 252-4247 x303 for admissions information. You can also take our online career assessment to see if esthetics is the right field for you. Message us online to ask questions and learn more about our exciting esthetician program. For more information, you can also schedule a tour of our professional esthetics school.